"High Aptitude Staff for High Altitude Solutions"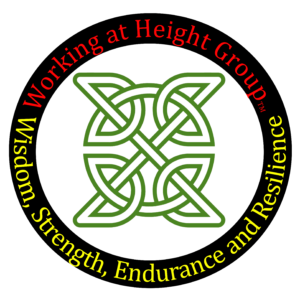 Welcome to the Working AT Height Group ™.
The Working AT Height Group ™  are Subject Matter Specialist's Providing such services like; Training, Consulting and Business Support Services working in the renewable energy, power generation, pharmaceutical, Petrochemical, Construction and facility management sector's with a team of professional instructors, Subject Matter Specialists and Project Managers with its headquarters' in the County Clare in the Republic of Ireland, working across the European Union and also strategically we have a pacific side headquarters' in Houston, Texas, United States working across the Americas. Working at Height Group™ is an irish owned company that lives up to its name and Logo. Working at Height Group™ logo irish symbol the  "Dara Knot" which can be traced back to the Irish Word "doire" meaning "Oak Tree" the "Celts" especially the "Druids" considered the oak tree to be sacred. The knot is associated with the root system of an Oak Tree, The Dara Knot is endless with no beginning or end, such as our commitment to all our Clients, Delegates and Staff "Consistent and Strong" much like the root system on and Oak Tree. This ancient symbol represents; Wisdom, Strength, Endurance and Resilience. It takes all these to make a Working at Height Professional. Like the oak tree Working at Height Group™ has deep roots in the industry and we are bringing that knowledge and strength to you. Working at Height Group™ "A Closer Look" Working at Height Group™ is made up of three divisions within it structure of the company.
Working at Height – Academy™  division which offers bespoke accredited training services from: fall Protection to Emergency Response to Technical Rescue. We offer training courses like:
Rope Access Training
Safety Training
Wind Energy Training
Work at Heights Training
GWO Training "Coming Soon"
Confined Space Training
Fire Safety
Ergonomics Training
Train the Trainer
to name but a few of our mots common courses.
Working at Height – Alti-Service™  division is which is our contracting Services specializing bespoke Business Support Services carrying out work doing; Consulting, Inspections, Installation, Maintenance & Repairs of all; Power Generation, Renewable Energy, Construction Petrochemical & Pharmaceutical Sectors.
Working at Height – 115-Madia™  division is which is our technology and Media Services department. This service provided is Animation, Multi Media Production, Film Services, inspection Photography & Videography, Ariel Photography Services and more.  
Our Staff. Working at Height group believes our Staff is our greatest asset all members are dedicated to safety and professionalism. The working at height group Staff hold many accredited certifications by associations  for example; Fire Services Collage UK, Center for Disaster Management UK, USAR, Emergency First Responder,  Health and Safety Institute (HSI), Society of Professional Rope Access Technicians (SPRAT), International Rope Access Trade Associations (IRATA), Institute of occupational safety and health (IOSH), Australian rope access association (ARAA), rescue 3 international, national association of emergency medical technicians (NAMET), international powered access federation (IPAF) & ladder association UK to name but a few.
Here at Working at Height we take P.R.I.D.E in our Work!
Professional
Responsibility
In
Delivering
Excellence
Working at Height ™ will always put "safety as our priority" having subject matter specialists who have an extensive knowledge of local and international legislation in health, safety & welfare standards as well as codes of practice, insuring our training programs are up to date with local, International Legislation, and our health, safety & quality management system is up to date with current standards and local & international law. Working at Height team of instructors comes from a wide variety of specialist backgrounds which in turn gives us a wide range of subject matter specialists with vast experience in their respective fields. Working at Height Group™ is Fully Insured Worldwide holding policy's in the EU HQ and The United States HQ, both policy's cover worldwide works. Working at Height Group™ will except nothing less the 100% customer satisfaction.  Working at Height Strive to provide Unrivaled Technical Competences so we can deliver the most appropriate safety solution to our clients and delegates. Whether is delivering site specific training or association-based training, Developing or Reviewing your Safety Culture for you company we are here to help. Working at Height Group™ is committed to teaching the highest safety, rescue & efficiency to all our clients meeting their loss prevention needs. Working at Height Group™ is an Equal opportunity employer and has a zero-tolerance policy against all forms of Harassment, Bullying, Racism of any kind.