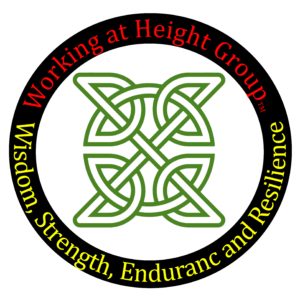 The Working AT Height Group ™ are Subject Matter Specialist's Providing such services like; Training, Consulting and Business Support Services working in the Renewable Energy, Power Generation, Pharmaceutical, Petrochemical, Construction, Utility's, Arborist and Facility Management sectors with a team of professional subject matter specialists and project managers within the organization. Our Global Headquarters in the County Clare in the Republic of Ireland, working across the European Union and also strategically we have a pacific side headquarters in Houston, Texas, United States working across the Americas.
The Working AT Height Group ™ was originally created in the Ireland with the view for the need for safer work practices. For over two decades we have developed one of the most comprehensive and unrivaled work approaches, offering excellent training, inspection, safety netting, vertical emergency response teams (VERT), standby confined space entry & rescue (SCSER), specialist access and lifting system solutions worldwide.
Our subject matter specialists receive high quality training, complete considerable number of diverse tasks and undergo a strict selection process prior to taking their place as a part of our team. They are independently assessed and qualified to the following; Fire, Ergonomics, Emergency Response, Emergency Management, Crises Management, Chainsaw Safety, USAR, CSERM, TR, RR, SPRAT, IRATA, ISO, FIST & ARAA to name but a few. Re-assessment takes place every one, two or three years depending on the area of expertise.
Working AT Height Group ™ strictly complies with the industry requirements for Auditing, Safety, Quality, Training and Work Practices. We use back-up fall arrest systems to eliminate danger in case of unlikely failure of the primary means of support. All teams have current Occupational First Aid Certificates, First Responder, Confined Spaces Training & Rescue, Safe Pass, Ladder Safety, PPE and Ladder Inspection, OSHA 10 & 30, and SPRAT/IRATA Level 1, Level 2, and Level 3 qualifications & Instructors, Rope Rescue Instructors.
Working AT Height Group ™ compiles with all the following industry standards,
ISO 9001 (Quality Management System)
OHAS 45001 (Occupational Health and Safety Management)
ISO 17024 (Accreditation for Personnel Certification Bodies)
ISO 22846 (Personal Equipment for Protection against falls)
ISO 11228-1,2 & 3 (Manual Handling)
ISO 11.160 (First Aid)
ISO 7165 (Fire Fighting – Portable Fire Extinguishers)