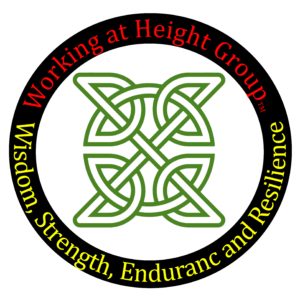 The Working AT Height Group ™  are Subject Matter Specialist's Providing such services like; Training, Consulting and Business Support Services working in the renewable energy, power generation, pharmaceutical, Petrochemical, Construction and facility management sector's with a team of professional instructors, Subject Matter Specialists and Project Managers with its headquarters' in the County Clare in the Republic of Ireland, working across the European Union and also strategically we have a pacific side headquarters in Houston, Texas, United States working across the Americas.
The Working AT Height Group ™ was originally created in the Ireland with the view for the need for safer work practices. For over a decade we have developed one of the most comprehensive and unrivaled work approach, offering excellent training, inspection, Access and lifting system solutions Nationwide.
Our subject matter specialists receive high quality training, complete considerable number of diverse tasks and undergo a strict selection process prior to taking their place as a part of our team. They are independently assessed and qualified by SPRAT/IRATA, ISO, FIST & ARAA. Re-assessment takes place every three years. Teams are selected in accordance with work specific requirements and necessity for particular professional skills. We use a wide range of industrial safety and rope access ,BS,EN, CE, ANCI, NFPA, certified equipment. When it comes to inspections, our technical team uses professional photo and video gear; they are able to read technical drawings and do basic calculations.
Working AT Height Group ™ strictly complies with the Industry requirements for Auditing, Safety, Quality, Training and Work Practices. We use back-up fall arrest systems to eliminate danger in case of unlikely failure of the primary means of support. All teams have current Occupational First Aid Certificates, First Responder, Confined Spaces Training & Rescue, Safe Pass, Ladder Safety, PPE and Ladder Inspection, OSHA 10 & 30, and SPRAT/IRATA Level 1, Level 2, and Level 3 qualifications & Instructors, Rope Rescue Instructors.
Working AT Height Group ™ compiles with all the following industry standards,
ISO 9001 (Quality Management System)
OHAS 18001 (Occupational Health and Safety Management)
ISO 17024 (Accreditation for Personnel Certification Bodies)
ISO 22846 (Personal Equipment for Protection against falls)
ISO 11228-1,2 & 3 (Manual Handling)
ISO 11.160 (First Aid)
ISO 7165 (Fire Fighting – Portable Fire Extinguishers) 
ASTM E2659 (Standard Practice for Certification Programs)
ANSI Z359 (Fall Protection and Fall Restraint)
BS 8454 (Standard Practice for Certification Programs)
BS 8800 (Guide to Occupational Health and Safety Management Systems)
NFPA 1006-17 (Standard for Technical Rescue Professional Qualifications)
NFPA 1670 (Standard on Operations and Training for Technical Search and Rescue
Working AT Height Group ™ team of subject matter specialists has extensive knowledge of Current Legislation Globally on Codes of Practice and Health & Safety guidelines not only enables us to incorporate the correct Safety Standards into our projects, but also to advise our clients on the best way to adhere to such regulations.
Why Us?
Working AT Height Group ™ is an industrial access company providing personnel specially trained to work in inaccessible locations. We use advanced access methods such as double rope techniques as a cost-effective alternative to conventional scaffolding, Lifts or cradle systems. This offers clients a faster and more flexible solution to most maintenance programs in difficult-to-reach areas, minimizing down-time and lost production.
Why Rope Access?
Working AT Height™ takes great care in employing only those who are best suited to the unique nature of the work. Our personnel are highly skilled in rope access and related activities and are all trained and accredited in accordance with relevant codes of practice. Working AT Height™ carries Full Liability Insurance on all of its contracts. Used professionally, rope-assisted work procedures are not dangerous and, according to statistics in the EU, are even safer than traditional high-altitude access techniques involving scaffolding. In our company, rope-assisted work techniques are only conducted by qualified and certified high-altitude workers on the basis of currently valid safety regulations as formulated by the professional association of rope access techniques SPRAT and IRATA. We exclusively use tested equipment which is in conformity with all relevant ANSI, NFPA, EN and CE Markings.
Partnership
WE PARTNER WITH OUR CUSTOMERS
We listen very closely to our customers to understand their exact goals, and we act in a way that will help them achieve those goals. We make it clear and obvious that we're enthusiastically committed to partnering the customer & delivering a solution on time and to budget.
The Rope Access Program
A rope access program must be built as an integrated system. The safety and efficiency of industrial rope access operations depend on an organization's commitment to successfully integrate four key components:
 Management System
Training system
Equipment Management System
Qualified Supervision
Safety Management Program.
We are continually monitors and update its product and service offering to include new innovations and products that improve the health, safety and performance of the company, its operatives and its clients' operations.
Training System
Industry standards give performance and training criteria for employees performing rope access work. The certification system is divided into three levels. A specified amount of rope access experience is required to progress to the next level, and candidates generally receive about32-40hours of training to meet the performance criteria prior to their evaluation at each level. Following this training Employees are evaluated through a written exam and a field practical. Up Skilling & Evaluation Day is carried out every year quarter.
Working At Height Group ™ HSEQ Commitment
Working At Height Group ™ Integrated Management System's Operating Standards for Health, Safety, Environment and Quality [WAHG-HSEQ] are controlled and implemented from within the organisation with Single dedicated system persons whom enforce and manage the Working at Height Group Integrated Management Systems. [WAHG-IMS]
These WAHG-IMS Process' and Procedures have evolved with the expansion of Working at Height Group™ to encompass not only the Academy division for our training centers, but also the Alti-Service division for site works for installation, Inspection & Repairs for all sector's we work in.
Our WAHG-IMS systems are continuously improving and have been critical in the expansion of our services and also the locations and countries that we work in which currently cover operations in Ireland & the USA.
Working AT Height Group™ |Corporate Social Responsibility.
Working AT Height Group™ |Data Protection Policy.
Working At Height Group ™ | Quality Policy.
Working At Height Group ™ | Environmental Policy.
Working At Height Group ™ | Rope Access Policy.
Working AT Height Group™ |Training and Payment Policy.
Working AT Height Group™ |Website Terms and Conditions Policy.